Fishing Report April 2014 – Click for details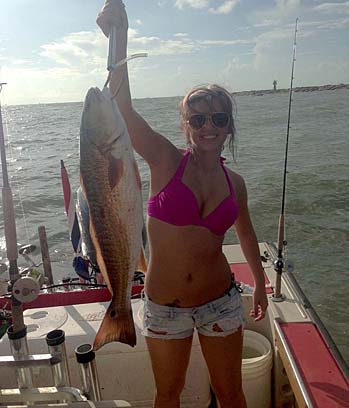 Fishing for the past two months (March and April) has been very similar, for the most part the thing that has things backed up is all these late cold front pushes of weather that won't let the water temp climb the way nature intended. Mother Nature is who controls everything in the Gulf and Bay, each degree of temperature rise, triggers a different species of fish to spawn. All these things control when different species of fish show up on the Galveston jetties.
The jetties for the most part hold a resident population of trout and redfish, which is what we target for the most part. Slot reds cooperate rather well , but bull reds cooperate even better. So when you come to fish the Galveston jetties with Captain Flores be sure you have your oversize redfish tag with you, fishing in the near future is going to continue to get better and better , so hurry and book your trip so you can take advantage of this beautiful way of life God has given us.