Fishing Report Oct. 2015 – Click for Details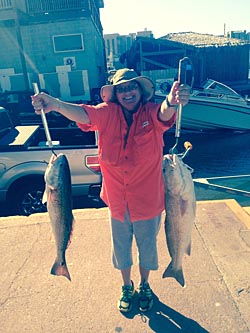 Hi There fishing fans!
Fishing lately is all based on what Mother Nature allows to happen. Bull reds, slot reds, black drum, gaff top, and occasionally God will bless us with some speckled trout. That's what's been going on at the jetties. All that has to happen for the flounder to get started is for the water temp to go down just a little bit more.
Call today to book your guided fishing trip and get the date you want. Dates are starting to fill up for November & December already so hurry up! Tight lines…
Capt. Sammy Flores