Fishing Report Oct. 2014 – Click for details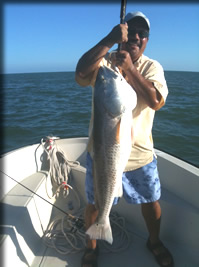 Fishing now is still very rewarding and exciting – lots of huge bull reds are being very cooperative and every now and then you might get a surprise of a shark or a very big black drum. When mother nature settles down and lets the conditions stabilize for an extended period of time, it might be possible to develop a pattern for speckled trout and slot reds. The Galveston jetties have the most to offer for anyone that wants to enjoy a day of fishing.
Tight lines.
Sammy
Hurry up and book your guided fishing trip NOW to be sure you get the date you want.